Vitamins to Aid Wellness
We offer a range of high quality vitamins, minerals and nutraceuticals from Coyne Healthcare, The Naked Pharmacy and Nutri Advanced
Please talk to reception if you would like to purchase any of our range of vitamins to aid your general wellness. Alternatively talk to Rowen at your next visit, for a more in depth knowledge of health and nutritional advice.
---
Bio-Curcumin® with BCM95®(30 or 60 capsules)
Delivers seven times more free curcumin than standard extracts.
Curcumin – the most active constituent of turmeric – is one of the most powerful botanicals in the world. Proven to support a healthy inflammatory response, this compound modulates inflammation and its damaging effects. But, the benefits of curcumin have been hampered by poor absorption and limited availability to inflamed tissues. Enter this exceptional product, boasting a 100 percent natural turmeric extract with a phenomenal range of benefits. Bio-Curcumin® BCM95® delivers up to seven times more free and bioactive curcumin into the bloodstream than many regular curcumin extracts. Plus, it remains bio-active for over eight hours. Combining micronized curcumin with ar-turmerone for greater potency, it is backed by over 68 published studies – no wonder it's recommended by healthcare practitioners and used by millions of people around the world.
Bio-Curcumin® is the most studied curcumin extract available today, trusted and recommended by health practitioners and used by millions of people across the world.
Bio-Curcumin® Advanced (30 or 60 capsules)
BCM-95® and a specialised Boswellia serrata extract, AKBAMAX®
Bio-Curcumin Advanced® is a potent and synergistic combination of Bio-Curcumin® BCM95®, a highly bioavailable curcumin extract supported by 63 published studies, along with AKBAMAX®, a specialized, extensively researched, standardized Boswellia serrata extract. Proven to deliver up to seven times more-bioactive "free" curcumin which stays in the body for up to eight hours, Bio-Curcumin® BCM95® with AKBAMAX® is a powerful blend of the most bioavailable components of turmeric and Boswellia providing a high-potency formulation with superior absorption that provides fast-acting support for a healthy inflammatory response, joint mobility and flexibility. Vegan-friendly, free from GMO/sugar/gluten/soya/anything artificial.
BCM-95® in combination with AKBAMAX® has been demonstrated through clinical trials to offer a synergistic and potent natural anti-inflammatory effect.
Origine 8™ delivers a world-first highly bioavailable green tea extract (30 capsules)
One of the world's greatest innovations in nutraceuticals, Origine8®, is a highly bioavailable, eco-friendly green tea extract made from fresh live green tea within six hours of harvest. Origine8® delivers the benefits of green tea encapsulated with liposomes for maximum absorption. Origine8®, for the first time, delivers all eight polyphenol-rich catechins from fresh live green tea in a standardized supplement and is designed to be more bioactive with 12 times greater absorption than other green tea extracts.
A human bioequivalence study has demonstrated a single capsule delivers the equivalent potency of 25 cups of green tea and remains bioactive for 24-hours.
Bio-Canna
Supercharged bio-availability
While cannabis and its phytocannabinoids (e.g. CBD) have many health benefits, is has low oral bio-availability. This means the majority of CBD taken through oral supplements is either not absorbed or broken down by the liver before it reaches general circulation. Science has demonstrated that u
p to 94 percent of
CBD taken in commonly consumed supplements is not available in the bloodstream.
Bio-Canna™ is produced using a proprietary and break-through technology that ensures enhanced absorption and bio-availability. Human clinical trials have shown that one hour after consumption, Bio-Canna™ delivers 740 percent more CBD into the body than regular CBD supplements.
Science has shown a staggering six out of 10 people who took standard CBD did not have any CBD in their blood at all, whereas Bio-Canna™ was absorbed by all users!
Saffrosun – with Organic Marine Algae
Saffron alone can have protective effects on the nervous system. Saffrosun contains the highest strength of potent bioactives at a strength of 3.5% of all three active components (crocin, saffranal & picrocrocin) per capsule, which have been proven to improve emotional balance, reduce tiredness and fatigue, and promote restful sleep.
Our NEW formulation of Saffrosun contains naturally sourced Organic Marine Algae, high in natural minerals and iodine. Iodine is an essential component in supporting efficient energy utilisation, cognitive and thyroid function and a healthy nervous system. This is sustainably harvested around the remote islands of the Scottish coast and then carefully dried and milled to ensure a high quality and nutrient rich algae. Every batch is quality tested by our Pharmacists.
Saffron extract at a clinically effective strength with naturally sourced organic marine algae, Vitamin D3 and organic prebiotic. Here's what it can do for you:
Restore emotional resilience
Help deal with daily challenges
Reduce fatigue and promote restful sleep
Prebiotic Baobab supports the natural gut microbiome
Iodine supports metabolism, cognitive, thyroid and neurological function
Pure Omega 3 Fish Oils Range
Eskimo®-3 is the pioneer brand in omega-3 supplements and has been used by practitioners and patients for over 20 years. It was developed by Professor Tom Saldeen who has earned the prestigious nickname 'the father of omega-3′ thanks to his lifelong study of the benefits of omega-3. Professor Saldeen made it his mission to bring these significant health benefits to the Western diet so often lacking in omega-3 and resulted in the birth of the Eskimo® range.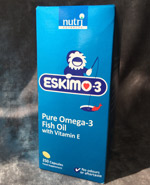 Pure Omega 3 Fish Oils with Vitamin E – 250 Capsules
Eskimo®-3 is a pure and stable omega-3 fish oil providing high levels of fatty acids EPA and DHA in their naturally present concentrations. Omega-3 fatty acids have been well studied, with EPA and DHA contributing to the normal function of the heart, and DHA supporting normal brain function and vision. EPA and DHA also provide support for normal blood pressure, skin health and normal triglyceride levels. Eskimo®-3 contains Vitamin E to ensure long term stability meaning no fishy odours or aftertaste. Vitamin E also has the health benefit of contributing to the protection of cells from oxidative stress and damage. Oxidative damage can lead to premature ageing and DNA damage. Eskimo®-3 has a tasty lime flavour oil.
Pure Omega Brainsharp – 120 Capsules
Eskimo®-3 Brainsharp combines the unique pure and fresh fish oil, Eskimo-3, with ingredients such as CoQ10 and GLA to optimise brain function and provide energy support. Eskimo®-3 Brainsharp provides high levels of omega-3. Omega-3 fatty acids EPA and DHA support heart health, vision, normal blood pressure, skin health and normal triglyceride levels. Omega-3 fatty acids EPA and DHA acids are also really important in supporting your brain's ability to perform. In fact, 60% of your brain is actually fatty acids. Eskimo®-3 Brainsharp also contains Vitamin D which contributes to immune health, normal bone, muscle and tooth health and cell division (mitosis). Mitosis regulates cell growth, development, and repair in our bodies.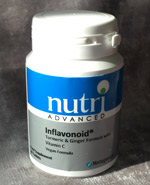 Inflavonoid – Turmeric & Ginger Formula with Vitamin C – 60 Tablets
Inflavonoid™ contains a specially formulated blend of phytochemicals from the select herbs: ginger and turmeric, together with citrus bioflavonoids and vitamin C. It acts as a natural alternative to NSAIDs (non-steroidal anti-inflammatory drugs) therefore reducing the often harmful side effects of gastrointestinal bleeding which are more common than many are aware, especially in those with an already sensitive digestive system.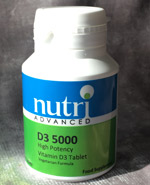 Vitamin D3 5000 – High Potency Vitamin D – 60 Tablets
Our bodies produce vitamin D in sunlight, but warnings about burning and melanoma lead people to cover up and get too little sunlight – not to mention the effect of living with the British weather. This is important because vitamin D regulates the amount of calcium and phosphate in the body, keeping bones and teeth healthy. That's why taking vitamin D is so helpful. It's present in oily fish, eggs and fortified products, but we make it even easier by producing it in several forms. D3 5000 is a high potency vitamin D formula that provides 5000IU of cholecalciferol per tablet. It provides a high dose for those who may be deficient or who require extra vitamin D.
Here are the Vitamin D recommendations from a study in May 2017: A recommendation of 1,000 IU for children < 1 year on enriched formula and 1,500 IU for breastfed children older than 6 months, 3,000 IU for children > 1 year of age, and around 8,000 IU for young adults and thereafter.
C-1000 TR – Time Release Vitamin C with Bio Flavonoids – 90 Tablets
C-1000 TR is a high-dose formula of the potent antioxidant vitamin C, augmented with synergistic bioflavonoids.
---
Probiotics – the gentle way to a healthier gut
The balance of bacteria in your digestive tract can be disrupted all-too-easily. Antibiotics, antacids, stress, a poor diet and alcohol have been shown to cause an imbalance in gut flora that may lead to all sorts of problems – including constipation, diarrhea, gas and yeast infections. Aside from problems of the digestive system, general infections and skin problems such as eczema can also result. Many supermarket-bought supplements carry probiotic labels, but – unlike ours – they are not guaranteed to contain the specific types of probiotic bacteria proven to benefit human health. Our probiotics feature only those bacteria proven to support the human digestive system. What's more, our products have been scientifically validated as containing these beneficial bacteria in a live state and in sufficient quantities to be effective. Meaning they start working in your gastrointestinal tract straight away.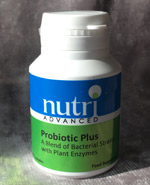 Probiotic Plus – 60 Capsules
Probiotic Plus contains an exclusive blend of live bacteria and provides 750 million viable organisms per capsule. Lactobacillus and Bifidobacterium have been complemented by five additional bacterial strains, including L. rhamnosus and L. plantarum.
New Product – ProbotiX® Daily 5 Live – 30 Capsules
ProbotiX® Daily 5 Live is an exciting new shelf stable formula that contains 5 strains of high quality live bacteria including 2 Bifidobacterium strains and 3 strains of Lactobacillus. Each ProbotiX® Daily 5 Live capsule provides a minimum of 5 billion live bacteria. It is excellent to use when travelling, especially as there's no need to refrigerate! Combine it with Saccharomyces boulardii for ideal travel or holiday support. ProbotiX® Daily 5 Live is free from sugar, dairy and other allergens, plus it's vegetarian and vegan.
---
Spinewaves Chiropractic | 01903 533645